In the Super Bowl the catchers did't do their best, but they are still good. These fab four go together like marshmallows and graham Crackers. Who knows if Gronkoski is going to go out wit the only touchdown and 87 yards.
Julian Edelman had 850 yards remember he was hurt at the beginning of the season and only played 12 games. Here's a card from him.

Gronkowski is our next topic. He had an amazing season and getting 682 yards. This is special though. I recommend too buy maybe a twenty dollar card like this one is rookie. If he decides to retire a lot of people well want it and then you can either sell it for double the price or sit on it longer.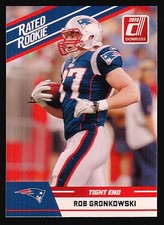 I was scrolling through and I found this cheap Tom Brady rookie. Buy these for under ten dollars sit on them until Tom Brady retires then sell them. Here's a couple.